​DARE to DREAM
​Coretta Scott King and The Civil Rights Movement
Focus Question of the Day

\As you read each chapter, you will be given a focus question. As you read, keep this question in mind. Look for evidence from the text to help you answer the question.

Who is Coretta Scott King?

TO DO LIST:
Write a prediction for pages 1-15
​​Read 1-15
Write chapter summaries in your journal
Language day 1

​Famous Black American Project:​
Powered by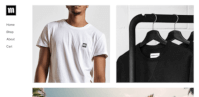 Create your own unique website with customizable templates.